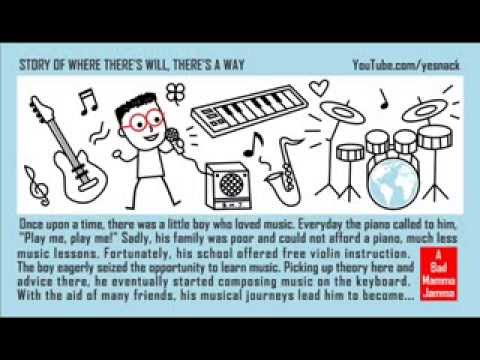 About
STORY OF WHERE THERE'S WILL, THERE'S A WAY
Once upon a time, there was a little boy who loved music. Every day the piano called to him, "Play me, play me!" Sadly, his family was poor and could not afford a piano, much less music lessons. Fortunately, his school offered free violin instruction. The boy eagerly seized the opportunity to learn music. Picking up theory here and advice there, he eventually started composing music on the keyboard. With the aid of many friends, his musical journeys lead him to become a bad mamma jamma...

As the baby cries, shrilling tones turn into musical inspirations. Fatherhood breathes life into dormant compositions. Will invites you on an unorthodox musical journey where you will laugh, love, learn and enjoy life. Weaving optimistic positive messages throughout an array of musical styles and instrumentals, you realize the beauty in life's imperfections and how the times we share whether good or bad are what a life is meant to have.

Will Avery trained as a violinist for 13 years until his junior year in college, at which point his desires to write original music began to flourish. He played piano to relieve stress and periodically performed at a local campus restaurant, The Sandwich Shop. Will started writing children's songs during a 10 year stint as an English instructor in Taiwan. In Taiwan, he published over 100 children's songs, won CTS 2000 award for best host of Chinese children educational program "Mosquito Home Page", worked with Taiwanese recording artists (Fan Zong Pei and Lin Hai graciously helped arrange track #1 So Darn Cute) and also filmed local TV/commercials. After returning to America, he took a 5 year hiatus from composing. Encouragement from fellow Washington and Lee alumnus and children's song performer, Roger Day, and the birth of Will's daughter, rekindled his spirits to compose music once again.

Baby Gonna Holla, is dedicated to Will's daughter. The project serves up top-notch musicianship marinated in fun-loving experiences, sprinkled with appetizing instrumentals and slow roasted funk that falls off the bone and is tasty to the listener's musical palate. The talented instructors at Bach to Rock deliver inspired performances. Funk, jazz, classical, rock and world vibes are blended into creative, upbeat, family friendly original songs that seek to leave listeners with positive energy. Baby Gonna Holla embodies Will's philosophy, "If you're having fun, you must be doing something right."
Will is offering the song "Periodic Elements - Little Things (New)" from Baby Gonna Holla as a public service contribution to science and education. All 118 of the elements are creatively blended into a smooth funky groove that relax and settle deep inside your mind. As new elements are officially named, the song will be continually updated accordingly and offered as a free download. The song, "Periodic Elements - Little Things (New)", has been praised by Wolfram Research co-founder, Popular Science columnist & element collector, Theodore Gray with pure elemental conciseness... "It's fun!"
Baby Gonna Holla is scheduled to be released on 1/1/2014
Retail price $12.98 on CDBaby

Will Avery
www.yesnack.com
Making Learning Delicious
Children's Music | Jazz | Hip Hop/Rap
Links
Source
Will Avery @ Tunghai University - Nov 9th - 2pm!!
Come to Will Avery's Baby Gonna Holla pre-release celebration and catch up on life…
Bring a friend and enjoy the show.
Time : Nov. 9, 2013 14:00~1700
Place: Classroom Nr. LAN 009 in English Dept. of Tunghai Univ. Taichung
Admission: FREE
CD Pre-Release Pre-Sale: NT$300
Schedule:
14:00~14:50 1st period
14:50~15:00 Rest
15:00~15:50 2nd period
15:50~16:00 Rest
16:00~16:50 3rd period
16:50~17:00 ending
Dispatch Details
| | |
| --- | --- |
| Doors Open: | 1:45pm |
| Concert Start Time: | 2:00pm |
| Venue: | Tunghai University |
| Venue St. Address: | 台中私立東海大學 外文系館 LAN 009 教室 ( 如附檔 ), 台中市西屯區中港路三段 181 號 |
| Venue City, State: | Taichung |
| Venue Link: | Click here |
| Ticket Price(s): | Free |
| Ticket Phone: | 新竹(03) 571-6594, 台中(04) 2652-9014, CELL 手機 :0931-151-107 |
| Ticket URL: | Click here |
| Event Notes: | Baby Gonna Holla Pre-release Celebration |